Artist Bios
Send an email to ukuleleplay+subscribe@googlegroups.com to get info on the 2013 fest as soon as it is available.
Craig Chee
Craig Chee was born and raised in Hawai'i and grew up playing classical cello and piano.  He took up the ukulele before leaving the islands, as a way to stay connected to home.  He studied with Jake Shimabukuro and Troy Fernandez when he returned, and continues to seek new ways to experiment with the ukulele in settings that are not typically associated with the instrument.
Craig's signature style is in high demand, and he has been well received at ukulele festivals throughout the US and around the world. He has performed and has given workshops at festivals in Seattle, Gorge, Milwaukee, Eugene, Cairns, Australia and more. His passion for performing can only be matched by his enthusiasm for teaching.  He currently has the most popular master class workshop on UkuleleUnderground.com. For more info, check out http://www.craigchee.com/
We are very excited to have Craig as our headlining artist this year both in the workshops and in our Grand Concert.
Daniel Hulbert
Daniel got his first ukulele in 2006. Since that time his collection has grown to over 40 ukuleles.  In 2009, he started building musical instruments as a hobby. He makes a variety of instruments, with the majority of them being ukuleles (acoustic ukuleles, solid body electric ukuleles, specialty travel ukuleles, and ukuleles from everyday items). Daniel became an Endorsing Artist for Eddy Finn Ukuleles in 2013. Check out his projects and videos at circuitsandstrings.wordpress.com
Michael Stone
Michael Stone owns MacNichol Guitars in Salt Lake City. He does custom, repair and set up work on guitars, mandolins, banjos, and ukuleles. MacNichol Guitars carries ukuleles and accessories, including ukulele humidifiers and pickups. He also plays a mean slide ukulele.
Max Willard
"I started playing in organized groups very early. I started on Trumpet in 3rd grade. Switched to Saxophone in 5th grade (my father liked the Sax better.) I played Sax the rest of my band years. I obtained a Ukulele when I was 12 years old and have [played] it on and off . . . Graduated WSU 1968 with a bachelors in Music Ed. And started a career in teaching. In order to continue making ends meet I switched from Sax to Bass Guitar and played in cover bands until I was 55 years old. When I retired I started to play guitar and played it for the last 10 years. That was very fulfilling but there was something missing. Then the Uke bug hit again and for the last three years have been honing my Ukulele skills. My wife says that I am a Uke-aholic. I play all the time. It is an addiction. In addition to playing unceasingly, I have been teaching private lessons at Acoustic Music in SLC. I attend Ukulele festivals all over the western United States and belong to the Utah Ukulele Society. Ukulele is an amazingly versatile instrument. It is probably more fun than anyone deserves to have playing music."
Cheryl & Bill Stephens with Scot Gilbert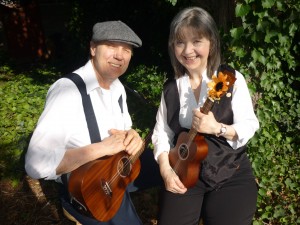 Scot Gilbert joins Cheryl and Bill Stephens this year for their 2nd "Ukulele Play" festival.  Scot (with one "t") adds a nice vocal touch to the group, as well as smooth ukulele solo lines. Cheryl and Bill have been involved in music both professionally and personally for over 30 years, during which time Cheryl was a
featured singer at various dixieland jazz festivals along the West Coast, the Midwest, and in parts of Europe. She later led, recorded and traveled with her own 8-piece dixieland group (the "Cheryl Stephens Vintage Jazz Band") for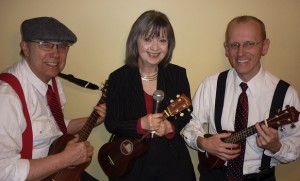 more than10 years. The couple began their interest in ukuleles several years ago when they were introduced to the "Scottsdale Strummers" jam group in Arizona.  And about Bill?….. Well, according to Cheryl, "Sweet William" has always been the "predominent chord" in her life, and they will soon be celebrating their 46th wedding anniversary in July.
Tommy Connor
Tommy Connor originally hails from Cork Ireland. He was exposed at an early age to a wide variety of musical influences -from Classical to traditional Irish and the Blues. It is no surprise that his own instrumental compositions span a wide cultural range from Celtic to Arabic to contemporary pop styles and beyond. Likewise, his songs are international in flavor -sung in his own native Gaelic as well as other languages (French, Spanish, etc..) Tommy brings his Irish charm and sense of humor to every stage and classroom. He claims that he loves the gentle ukulele so much that he once tried to have his name legally changed to Paul O'Nesia… Tommy is excited to participate in the festival and make new friends in American Fork. As he likes to say, "The audience is the finest instrument in every live performance."