Weekly Classes
Tuesday evenings at the American Fork Recreation Center (Arts Council Classrooms), see http://goo.gl/maps/BmqRk for a map.
6:30pm Beginner Ukulele Classes : 7-week classes for absolute beginners. Level 1 starts September 10th and Level 2 starts October 29th. $49 per 7-week session or $85 for both. Family passes are the same price!
7:30pm Utah Ukes : Ukulele 'orchestra' for advanced beginners, intermediate and advanced players that performs 4 or more times during the school year. We learn songs for more advanced chords and right hand techniques, tablature and pieces with multiple parts like in an orchestra or band. We have a ton of fun, so come and enjoy bringing some pieces to performance readiness and spreading the ukulele joy. Rehearsals begin on September 10th. Dues for Fall semester are $85 for individuals or family passes.
If you have any questions, please feel free to email Ryan at ryan@ukuleleplay.com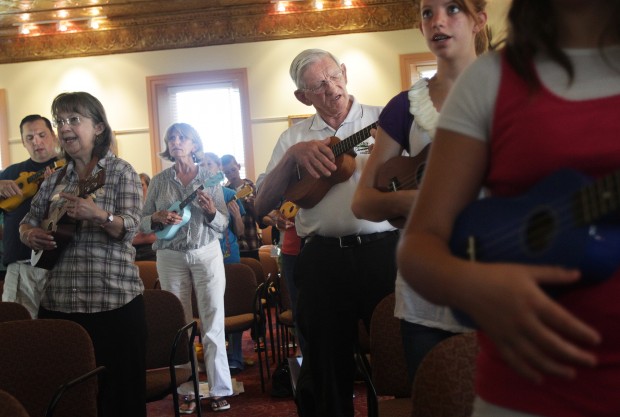 "Don't worry about being too old or too young for joining the ukulele community. Most ukulele groups have members ranging in age from teenagers up to pensioners and a good gender balance. Most groups welcome beginners . . . no matter who you are you'll get a warm welcome." ~Alistair Wood, Ukulele for Dummies