Welcome to Ukulele Play!
Utah Ukulele Classes, Bootcamps & Lessons
Contact ryan@ukuleleplay.com for details on any of these learning opportunities.
Wednesday Evenings at 6:30pm : Ukulele Classes. L1 are for absolute beginners. L2 are for confident beginners. Classes on special topics for players of all levels are also taught. See the calendar above for starting dates. Individual classes are $45. Two classes are $85. A school year pass (four classes) is $135. Ask Ryan for family rates.

Wednesday Evenings at 7:30pm : Rehearsals for UFO HUM (Ukes for Others : Happy Ukulele Movement), our performance group. See the calendar above for start dates. We're always taking new players, from confident beginners to advanced players, especially just after a concert (check the calendar above). Semester dues are $50 (you may need to purchase a book or two from Hal Leonard's Ukulele Ensemble series, depending on what we're preparing for performance, all other materials are provided free).
Private Lessons : Ryan has a few openings for students, mostly in the daytime hours. Lessons are $20 and paid for by the month. Contact him with any questions.
Ukulele Bootcamps for absolute beginners are held periodically in various locales. If you need a ukulele, you can buy a ukulele to prepare yourself for this bootcamp. Ukuleles are also available for sale as part of the bootcamp. Traveling Bootcamps are also available for groups of almost any size by appointment (PDF eBrochure

).
Ukulele Songbooks from M. Ryan Taylor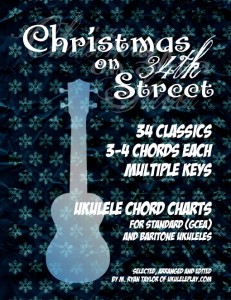 Reviews for Christmas on 34th Street:
"Much more than your typical ukulele songbook, Christmas on 34th Street is a treasure trove of Christmas chestnuts arranged in multiple keys to fit a wide vocal range. With thirty-four songs featuring traditional classics to rediscovered gems, M. Ryan Taylor has produced the only Christmas songbook you'll need for this or any other holiday season sing-along."
~ Jim D'Ville of PlayUkuleleByEar.com
"There are 34 songs in here, but what I find really nice is that he has presented most of them in multiple keys to ensure that any group should be able to find a version that suits their vocal ranges. Thats a really neat idea that you don't normally see in song books that kind of tell you to 'play it this way or the highway'. He also went another step further and as well as providing standard GCEA chord boxes at the top of each sheet, he has provided Baritone chord boxes too. Something else you don't see all that often." ~ Barry Maz of GotaUkulele.com (visit site for the full review)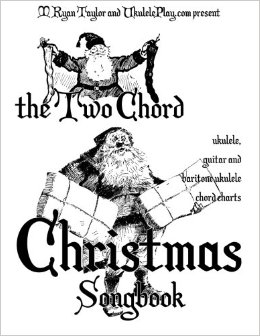 Reviews for The Two Chord Christmas Songbook:
"What a fun book! These songs are written our for ukulele, baritone ukulele and guitar and the words are included. Everything is easy to read. The selection of songs is wonderful. Thanks to M Ryan Taylor for such a great book." ~ Michele on Amazon
"Great Christmas songs for a ukulele beginner! I would recommend this for anyone this Christmas. Get singing and playing before the big day." ~ Mrs. N. Ayres on Amazon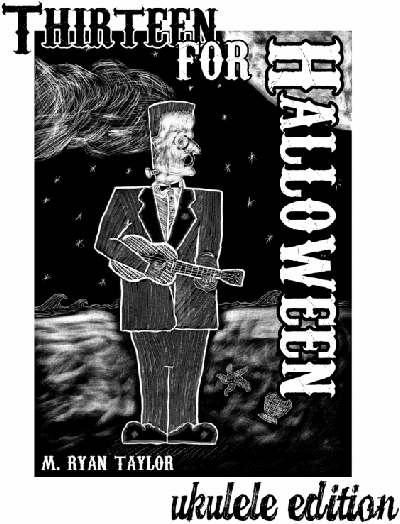 Thirteen for Halloween : Ukulele Edition
A fun collection of 'spooky' songs for the young and the young at heart. An Ukulele Edition is now available for you to strum and sing along. For more information on the songs, videos, and lots of Halloween fun, visit ThirteenforHalloween.com
"The songs in Thirteen for Halloween are just a joy, and well worth the price. They will appeal to both children and adults, alike. The arrangements are bright, fun, and easy to play. My kids love these songs and always stop to listen, and better yet join in, when I sit down to play them. Many are traditional texts set to original melodies. The "Three Quodlibets for a Gaggle of Ghouls" [Tracks 10-12] are full of fun sonic references to classic monsters, and is just plain fun to sing with your family and friends. The best recommendation I can give for this collection is this. Not a week goes by since getting this collection that my five year old doesn't come to me as say, "Dad, will you sing the song about the mean old witch for me?" Cost of the CD/book? $16. My kids wanting to sing with me? Priceless." ~ John Newman, this review refers to the original piano song book and CD available at Songs for Teaching.
Ukulele Play!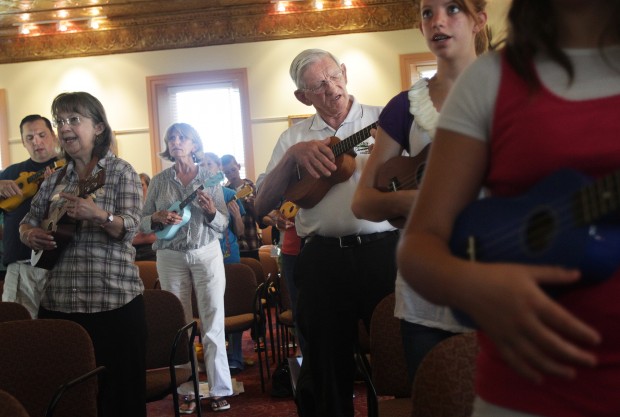 "Don't worry about being too old or too young for joining the ukulele community. Most ukulele groups have members ranging in age from teenagers up to pensioners and a good gender balance. Most groups welcome beginners . . . no matter who you are you'll get a warm welcome." ~Alistair Wood, Ukulele for Dummies