Ukulele Books from M. Ryan Taylor
See also: For Ukulele Ensembles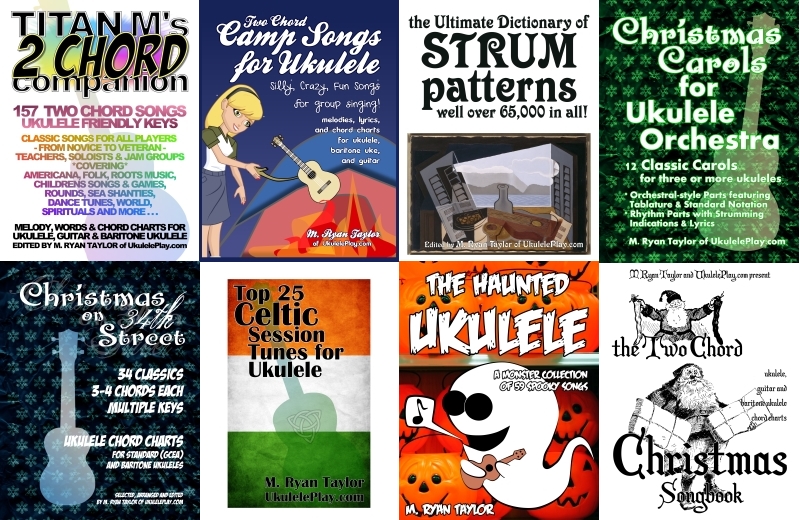 Projector Collections
Ukulele Play & M. Ryan Taylor on YouTube
Ukulele Play Channel on YouTube
About the Author
M. Ryan Taylor of UkulelePlay.com is the organizer of The Original Utah Uke Fest (since 2012) and director of Happy Valley Ukes : Utah's Ukulele Orchestra, performing regularly across the Wasatch Front. Ryan also teaches Weekly Ukulele Classes in Utah & Ukulele Bootcamps (where absolute beginners learn all the basics of playing plus five songs in a matter of hours). Ryan also leads the Ukulele Youth Choir of the American Fork Children's Choir, a tuition-free ukulele learning and performing experience for youth 10+ that meets Monday afternoons throughout the school year in American Fork.
In Ryan's words, "I came to the ukulele after seeing Jake Shimabukuro's rendition of "While my Guitar Gently Weeps" on YouTube. Jake inspired me and after getting familiar with the basics I started a ukulele program through the American Fork Children's Choir. It turned out there were just as many teens, adults, and seniors in the community who wanted to learn and I just kept going, creating new learning materials as I went."
Ryan has degrees in Vocal Performance (Bachelor of Music) and Music Composition (Master or Music) and is a Kodaly-certified music education specialist. He has worked professionally as a performing singer, recording artist, composer of vocal music, and director of choirs.