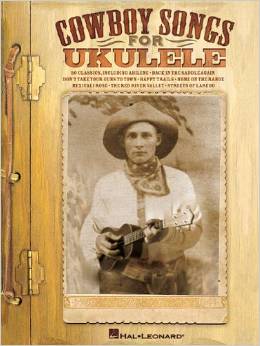 Cowboy Songs for Ukulele from Hal Leonard includes a nice selection of tunes from the classic days of cowboy songs, before cowboy turned into country; think Gene Autrey, Johnny Cash, Roy Rogers and various cowboy folk songs. Some songs I might work up myself include Back in the Saddle, Ghost Riders in the Sky, Happy Trails, and various of the Gene Autrey songs that are included.
Who this book is for:
Folks that love cowboy tropes and songs; these are full of wonderful cliches about trails, cowgirls, gunfights and more.
Folks that prefer a chords-over-melody-line-and-lyrics format (like The Daily Ukulele). I enjoy having a melody line to help learn unfamiliar songs without having to look up a recording.
Folks that are comfortable improvising/making up their own strum/fingerpicking patterns on the fly.
Also worthy of note, the chord level in this book is fairly easy, making it a great selection for groups with mixed levels of players or advancing beginners.