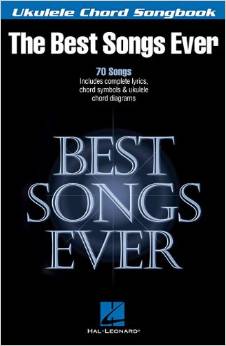 The Best Songs Ever (Ukulele Chord Songbook) from Hal Leonard is an interesting selection of songs in the chords-over-lyrics format many ukers are accustomed to.
Who this book is for:
Players of a certain age to whom these songs are familiar. I'm in my early forties and hadn't heard of many of the songs in this book (maybe half). However, my mother flipped through this book and knew almost every song (she's in her early seventies).
Players who want the songs in the original keys and are not afraid of learning large sets of (sometimes difficult) chords. Many songs feature over 20 chords.
Players who prefer the chords-over-lyrics format and don't want to be bothered with treble cleff, notes, or tabs.
If you fit the above profile, this book may be a good addition to your library.
I was sent a review copy of this book from Hal Leonard.