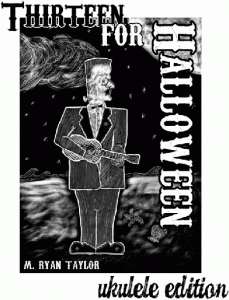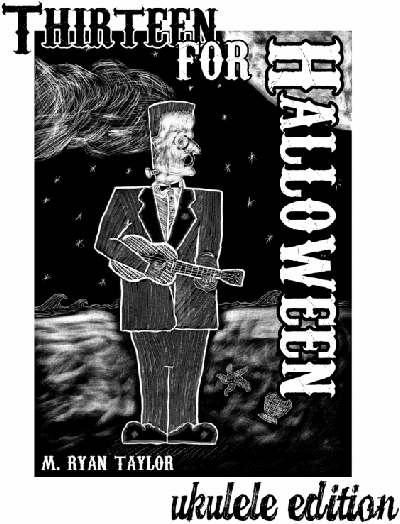 New for 2012! The long-awaited ukulele editon of Thirteen for Halloween (link goes to tradebit.com) is now available for instant download. This Halloween songbook contains ukulele chords (C tuning) AND chords for baritone ukulele.
Includes all the songs from the Thirteen for Halloween album:
Welcome Said the Spider
The Ghost of John
Three Little Ghostesses
Mactavish Is Dead
Skin and Bones
Queen Nefertiti (The Mummy)
Old Witch, Old Witch
Witch, Witch, Where do you Fly?
Im a Mean Old Witch
Unlikely Company
The Ghost Ship
Were Back!
Five Little Pumpkins
Get the matching "Frankenstein on the Beach" ukulele t-shirt (link takes you to printfection.com)!
For more Halloween fun, visit ThirteenforHalloween.com.  For more ukulele awesomeness, visit UkulelePlay.com.