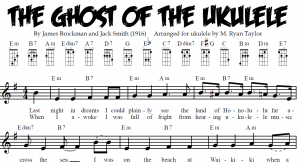 A silly little offering for Halloween, this song came out in 1916, riding on the ukulele's first wave of popularity:

"Last night in dreams I could plainly see the land of Honolulu far across the sea, I was on the beach at Waikiki, when a million ukuleles started chasing me . . ."
Original recording: http://www.loc.gov/jukebox/recordings/detail/id/5447/
I'd hoped to do a video, but just didn't have enough time. I hope you enjoy the music anyway! Send me videos if you make them! Happy Halloween!
More Halloween fun: