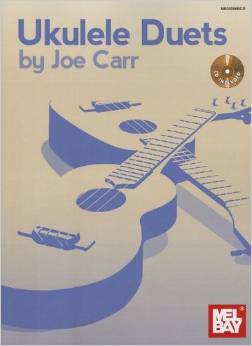 Ukulele Duets, released by Mel Bay.
As a blogger and an ukulele book author, I generally try to be as kind and positive as I can about any ukulele book I come across. I try to imagine who would enjoy the book, rather than whether I would find it personally useful.
I had great hopes for this book. I teach ukulele groups and a book of duets would be a wonderful resource. The formatting is nice and clean; it includes melody and tab lines for each of the ukuleles.
Problems started to arise though, when I played through the book. One ukulele plays through the melody, which is no surprise. Where I was dissapointed, and frankly think makes this book useless, is that the harmony part on the second uke is almost entirely, in every arrangement, a parallel third or fourth above the melody. Anyone could figure out how to play in parallels. Who needs a whole book for it?
In short, there is no real arranging here, just a formula used over and over again. The ears get tired of this kind of thing really quick. For this book to be useful, I would expect to some good/interesting counterpoint.
Thankfully, Amazon refunded my purchase.