Blood on the Saddle
Posted by admin on March 21st 2013 @ 12:52 am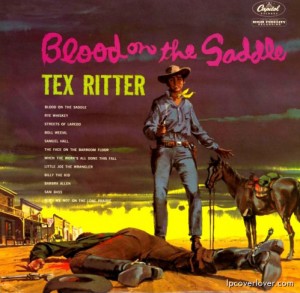 I love this parody of 'Western' cowboy songs (whose origin likely includes college glee clubs). It has enjoyed quite a bit of popularity with actual 'Western' folk artists (I recently bought a record of such, just because it had this track on it). However, the most famous recording comes from Tex Ritter.
I like to program this song around Halloween; I'm a big fan of the humorous side of the holiday, I even have my own Halloween album and website for kids.
Post filed under Ukulele Arrangements.