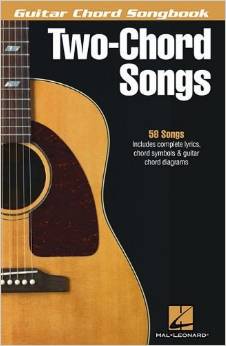 Two-Chord Songs (Guitar Chord Songbook) by Hal Leonard has an eclectic mix of rock, pop and country songs that I'm excited to explore more. Some songs I am familiar with (Paperback Writer, ABC, Day-O, etc.), and others I'm going to have to get on youtube or spotify and look up, but with these easy resources for learning the melodies of songs freely available, I'm just not too worried that there are songs I don't know in the collection.
Although I was a little puzzled when Hal Leornard sent me a guitar book for review, it doesn't take much imagination or skill to turn ANY songbook with chords into an ukulele songbook; all you need is a ukulele chord reference (chart, dictionary or online app) and the patience to look up the chords and write them into the music. Actually, you don't even need much patience when it comes to songs that only have two chords!
As a teacher, I love two chord songs (yep, I've even published two songbooks dedicated to them). When practicing transitions between chords, I find it best to focus on two chords at a time and two chord songs offer almost instant gratification to the student as a reward for their dilligence.
So, if you're a beginner, or just like it easy, consider ignoring the guitar on the cover of this book and picking up a copy to add to your ukulele songbook collection. You might also consider picking up the Hal Leonard Ukulele Chord Finder: Easy-to-Use Guide to Over 1,000 Ukulele Chords for less than six bucks to make writing in your ukulele chord symbols a snap (I use this book all the time).