The Daily Ukulele : To Go!
Posted by admin on February 23rd 2016 @ 10:28 pm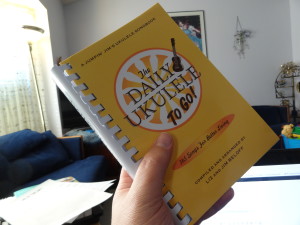 Just in case you didn't know . . . The Daily Ukulele is now availble in a palm-sized edition. This book is awesome with a great selection of songs, is a standard at many ukulele jams, and now fits in the pocket of your ukulele case!
The full sized version of this is in my library, marked with about 100 post it notes. Time to start transferring my notes over.

One minor quibble I have with this, and the original book, is that many of the songs are in keys that are a little low for your average singer. However, if you learn how to transpose songs (and every player should at some point learn how to), then there is 'no problem.'
Post filed under All UkulelePlay! Blog Posts, Ukulele Song Books.