Category Archives:
Ukulele Contests
Congratulations to our 3 winners! Steve, Brendon and Jon (selected using a random number picker). I've contacted them by email. Thanks for participating!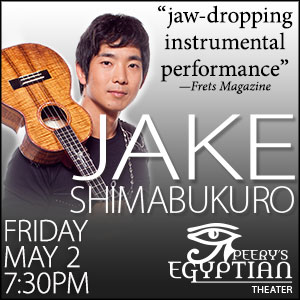 I have 3 pairs of tickets to see Jake Shimabukuro in Ogden on May 2nd, 7:30pm at Peery's Egyption that I will be giving away. This is an awesome venue and Jake was amazing the last time we went to see him there.
To enter:
Reply to this post and share a link to your favorite Jake Shimabukuro video, quote, article, etc. on or before April 24th.
Send the link and your name to ryan@ukuleleplay.com with the subject, "I want to see Jake." You'll be added to the ukuleleplay.com newsletter.
Winners will be chosen at random and announced on April 25th on the ukuleleplay.com newsletter.
Good luck!
I held a much under-promoted (I got really sick just after starting the contest) Christmas Video Contest on Ukulele Underground (link takes you to the thread on their forum where you can see all the entries). Despite the fact I didn't get the word out like I'd like to have, there were still some great entries from the UU community and here is the winner:
Congratulations to Mina (who wins an Outdoor Ukulele) and thank you to everyone! Merry Christmas!
Mark Dutton's entry of his original song, "Just Too Short," is the winner of the 2-Chord Song Contest, D & A7, from UkulelePlay.com.
This entry had a lot going for it . . .
A cute, original children's song.
Great playing.
Creative use of chord inversions and alternate voicings.
A nice tutorial at the end of the video.
Thanks Mark, wonderful stuff! You're Mahalo Smiley Face Ukulele will be on its way to you shortly.